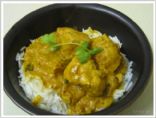 Very good but Very Spicy
6 boneless skinless chicken breast cut in cubes or halves, 3-4 if chicken breast are large, I recommend completely thawed chicken or it will create too much liquid
1 tablespoon Olive oil
2 Cloves garlic, chopped
2 Scallions, chopped
4 tablespoon Curry powder (original recipe I adapted to Paleo says 4 Tbsp(s), that is a lot and very very spicy, I would use 2 Tbsp(s), you can always add more).
1 tablespoon Allspice
1 tsp ginger
1 cup organic, reduced sodium, chicken broth
1 cup unsweetened coconut milk
1/2 Serrano pepper minced(Optional as it is already a very spicy dish)
1/4 cup unsweetened shredded coconut for garnish
Additional chopped chives for garnish
As it cooks, If the sauce it too thin, add about 1-2 Tbsp(s) Arrowroot powder, if it is too thick add a little more coconut milk and stir well (Arrowroot powder clumps almost immediately in liquid, stir the sauce well until the powder is dissolved)
Serve over cauliflower rice, spaghetti squash or steamed veggies
Line a crock pot with a liner or coat with coconut oil or sunflower spray
Add all ingredients and cook on high for about 3-4 hours or low for about 4-5 hours (mine is new so it cooks a lot faster than previous slow cookers)
I would check on it at about 2-3 hours for liquid and sauce consistency and stir well, all slow cookers cook at different rates. Check on it again each hour, at least the first time you cook it. Then you should know how much liquid or arrowroot powder (if needed) for your sauce preference and what the appropriate time is for your slow cooker.